As of about 4pm today, "Trust Your Heart: Building Relationships That Build Your Business" hit
#1 in Books for Amazon's Free Enterprise Category
#1 in Books for Amazon's Customer Service Category
#1 on Kindle for Amazon's Customer Service Category
#2 Amazon Mover and Shaker
She's still climbing so I look forward to announcing even higher results. Earlier this afternoon, I captured Snow (my Great Pyrenees and mascot for the book) on film with her tail wagging and enthusiasm rising about the launch!
If you haven't got the book along with all the cool bonuses, be sure to run over and grab yours at www.TrustYourHeartSeries.com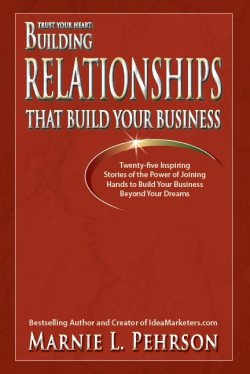 Have you ever wanted to work with a certain marketer but didn't know how to get her attention?
How about watching a teleseminar series and thinking, "My product could bring immense value to this audience! How can I get on the circuit and be a part of these telesummits?"
Does it seem like building profitable relationships remains just outside your reach?
Let me be frank – one profitable relationship can set your business up with perpetual cash streams and spell the difference between "barely making it" to phenomenal success.
I've built my business on creating profitable partnerships. (bringing in more than $280,415 from one project)
I'm proud to announce the release of our new book in the Trust Your Heart series: Building Relationships that Build Your Business…
… and this is one of those rare gems that bottle up the wisdom, shortcuts, and techniques of 25 successful individuals (including myself) who've created relationships that have brought tens, even hundreds of thousands of dollars of extra income into our businesses.
On launch day, May 24, 2012, I'm doing something I've never seen before. Each person who purchases the new book ($12) will not only receive this collection of relationship building insights, but also
an exclusive invitation into my Marketing Partnership community, in which you can showcase your business in front of folks who are looking for experts to interview and partner with! (normally a $788 annual value)
step-by-step training on how to use the community to build those profitable relationships. (normally sells for $97)
I'm talking how to get celebrities to work with you, actual scripts to use when calling someone for a joint venture, all the inside tips to mining relationship gold. And it's all FREE when you purchase the book from Amazon on launch day!
Get a preview of the new Trust Your Heart: Building Relationships that Build Your Business book and this off-the-charts Marketing Partnership Community bonus and training-
-plus grab a free-audio now at the site How You Can Leverage Your Current Business Relationships Into Perpetual Cash Streams!
http://www.TrustYourHeartSeries.com
Building real relationships that support your business can take years. We've teamed up to shorten your journey significantly. Here's to Mining Relationship Gold!
Remember, all the bonuses are only good for one day – and I don't want you to miss out!
The latest edition of the Trust Your Heart Series — Building Relationships That Build Your Business is hot off the presses. I just received the proof copy in the mail today. Looks great!  Here's a sneak peak into what you can expect from this next exciting title:
The official launch date is May 24, 2012. In the meantime, be sure to grab your copy of "Mining Relationship Gold" here.
In this short video, Ellen Britt and Marnie Pehrson discuss how to eliminate the fear around getting your ideas out there by becoming a marketing chemist. Taking the personal element out of marketing and testing and tweaking helps the wise entrepreneur navigate their way to success.
Get the rest of the interview at TrustYourHeartSeries.com along with exclusive interviews with the other 18 contributors to the "Trust Your Heart: Transform Your Ideas Into Income" bestseller.
For a limited time, we've dropped the price on "Trust Your Heart: Transform Your Ideas to Income" down to only $4.99 on Kindle! So if you haven't grabbed your copy of this Amazon #1 Mover and Shaker, now's the time to get yours. And the cool thing is, buying the book on Kindle also qualifies you to receive all 19 interviews with the contributors!
So be sure to get your copy and then stop by www.TrustYourHeartSeries.com to get these exclusive interviews.
We've been getting great feedback on these audios — people are downloading them to their ipods, getting inspired, and going great guns on their ideas — just by listening to these audios while they travel and commute.
Are other people holding you back from your big idea? Marnie Pehrson and Laura West (of "Trust Your Heart: Transform Your Ideas into Income) discuss what to do with other people's opinions when you're marketing your product, service, expertise or idea.
Guest Blog: Carolyn Murphy, founder of Family Tree Quest (www.familytreequest.com) Working as a professional calligrapher for over 20 years, I thoroughly enjoyed providing a variety of services to valued customers. This included writing names in beautiful penmanship on family tree charts. It was a fantastic way to work from home while raising my five children. Beginning in 1993, however, effects from a series of three car accidents compromised my ability to keep up that work. My usual "pop-right-back-from-any-difficulty" attitude was not enough to overrule the verdict that there would be lingering physical effects. Incredible adjustments to living with daily pain and acceptance of what seemed to be a new life with dramatically-reduced physical activities began to take its course.
Read the rest of this entry »
Do you have what it takes to be an entrepreneur? In this video, Jessica Swanson talks with me about what stands in the way of running with your ideas, how to overcome those obstacles, and what it takes to be a successful entrepreneur.
Read the rest of this entry »