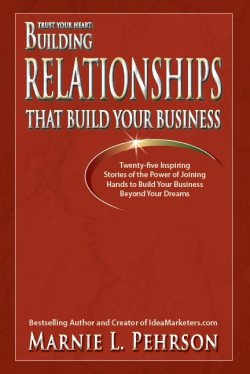 Have you ever wanted to work with a certain marketer but didn't know how to get her attention?
How about watching a teleseminar series and thinking, "My product could bring immense value to this audience! How can I get on the circuit and be a part of these telesummits?"
Does it seem like building profitable relationships remains just outside your reach?
Let me be frank – one profitable relationship can set your business up with perpetual cash streams and spell the difference between "barely making it" to phenomenal success.
I've built my business on creating profitable partnerships. (bringing in more than $280,415 from one project)
I'm proud to announce the release of our new book in the Trust Your Heart series: Building Relationships that Build Your Business…
… and this is one of those rare gems that bottle up the wisdom, shortcuts, and techniques of 25 successful individuals (including myself) who've created relationships that have brought tens, even hundreds of thousands of dollars of extra income into our businesses.
On launch day, May 24, 2012, I'm doing something I've never seen before. Each person who purchases the new book
($12) will not only receive this collection of relationship building insights, but also
an exclusive invitation into my Marketing Partnership community, in which you can showcase your business in front of folks who are looking for experts to interview and partner with! (normally a $788 annual value)
step-by-step training on how to use the community to build those profitable relationships. (normally sells for $97)
I'm talking how to get celebrities to work with you, actual scripts to use when calling someone for a joint venture, all the inside tips to mining relationship gold. And it's all FREE when you purchase the book from Amazon on launch day!
Get a preview of the new Trust Your Heart: Building Relationships that Build Your Business book and this off-the-charts Marketing Partnership Community bonus and training-
-plus grab a free-audio now at the site How You Can Leverage Your Current Business Relationships Into Perpetual Cash Streams!
http://www.TrustYourHeartSeries.com
Building real relationships that support your business can take years. We've teamed up to shorten your journey significantly. Here's to Mining Relationship Gold!
Remember, all the bonuses are only good for one day – and I don't want you to miss out!