Love the feedback we're getting on "Trust Your Heart: Transform Your Ideas to Income." Got this in an email this evening…
"I am about one third into the book and already feel inspired and uplifted by the stories of courage, heart felt connection, and vision shared by your co-authors.
"My own mind chatter is being stalled by reading the numerous examples of how people created their dream business and it opens up a space of possibility for others to follow through with their own dream project. It certainly had this effect on me and it got my creativity ticking."
"Some of my ideas that I kept on procrastinating about got revived through the inspiration and I have taken action on one of them today and requested help to bring them to life transforming a 'lone wolf' type of pattern that limits my ability to manifests what is wanting to emerge through me. So thank you for showing the lead into what is possible for each of us!"
- Aline Munsch, Transformational Coach. Creating change for the highest good. Awaken, Heal and Reconnect to our Global Interconnectedness
Isn't that great! I'd love to hear your experiences! Email them to me at marnie@trustyourheartseries.com. I'm posting the best comments here on the blog
How would you like to be featured in the next Trust Your Heart Series book? You could be! Here's how…
Do you have a story of how you trusted your heart in business and it worked out for the best? We're starting a "Trust Your Heart" story contest. You'll be able to submit your story for possible inclusion here on this blog along with your resource box and a link to your web site.
Every entry that makes it to the blog will be considered for inclusion in the next book in the series which will be around trusting your heart in relationships that affect your business (collaborations, customer relations, partnerships, family, etc). We're still working on the title for this second book in the series. Of course there will be experts in this one like there were in the first, but we'll consider the best entries on the blog for inclusion as well.
Here are the submission guidelines:
1) Write approximately 1,000 words in first person.
2) The first half should be your story and the second half should be the lessons you learned along the way. (For best results, read Trust Your Heart: Transform Your Ideas Into Income to get a feel for the format.)
3) Keep in mind the subject matter of the next book if you want to be considered for it (relationships and how they affect business). We'll accept stories unrelated to this theme for the blog. It is possible that exceptional non-relationship-oriented stories could be considered for future books in the series. But bear in mind the continual "trust your heart in business theme.
4) Write a 50-75 word bio of yourself in 3rd person.
Email the above along with the following to submissions@trustyourheartseries.com:
- Your full name and snail mail address
- Your email address
- A good phone number to reach you and best time to call.
- Your web address you'd like your resource box to link to
- A 300 dpi photo of yourself
- A signed and completed copy of our Submission Release Form. (You may scan and attach it or snail mail it to the address provided on the form.)
Submission Deadline to Be Considered for the Next Book: November 15, 2011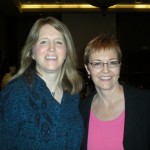 On Tuesday June 7th, Denise Wakeman will be interviewing me specifically around how we used social media to create a big buzz and launch the book to a #1 Amazon bestseller in two categories and as a #1 Amazon Mover and Shaker.  These are valuable tactics you can use and adapt to get the word out about your site, product or service… not just books!
This is a high-content, no-pitch call and won't cost you a dime. To get the call-in details, go to
http://denisewakeman.com/events/marnie/
Hope to hear you on the call.

Oh, and here's another chance for you to get MORE exposure! Email me your thoughts on the book and if we like them, we'll use them on this blog and include a link to your web site!
Our recent Amazon bestseller launch for Trust Your Heart: Transform Your Ideas to Income has created quite a bit of buzz and questions about what it takes to create a #1 bestseller launch of this magnitude with no joint venture partners.
I'll be sharing the inside scoop with Kathleen Gage's VIP Club members on June 13th, but I will give you two key elements here. First and foremost it takes an amazing team of people!  Second, it takes thinking outside the box.
For example, this launch would never have been possible without the masterminding brilliance and copywriting of Lisa Rae Preston. Lisa was my right-hand-woman on this campaign and it was through brainstorming with Lisa that we were able to create a win-win-win for our contributors, our readers and the book.
Lisa encouraged me to lift the lid on my thinking and come up with something that had never been done before, something so amazing, so compelling that people would be crazy not to buy the book.
And that's what I'd encourage you to do when you're launching your book (or product or service). It's the tendency of humanity to copy someone else's successful system. In fact, people copy, copy, copy until they run things in the ground, and they're so overdone they don't work anymore. Instead of copying someone else, think outside the box and come up with something unique that has never been done before, something that is so win-win that people can't resist it.
Then, you'll be onto something!
By the way, if you need help stretching your thinking outside the box so that you take quantum leaps on what's possible, I HIGHLY recommend working with creative genius,Lisa Rae Preston. There's nobody like her!
Oh, and if you haven't picked up a copy of Trust Your Heart: Transform Your Ideas to Income be sure to stop by www.TrustYourHeartSeries.com to find out how you can not only get a copy of the book, but also exclusive interviews with all 19 participants.
Here's what one of our readers wrote me this morning:
"I received the book and I love the info and life changing stories. I listen to the audios while driving to work. It's better than coffee to kick start your day." – R. Willams
Some people collect dolls, figurines, or baseball cards. I collect people! There's nothing I love more than meeting someone new with an amazing skill or talent and learning from them. That's why I'm thrilled to announce my new book, "Trust Your Heart: Transform Your Ideas to Income" because I get to share with the world some of my favorite people and how they transformed their ideas into income.
There's so much we can learn from those who have "been there, done that!" These folks all had a dream, faced challenges head-on, and took action on their ideas to transform them into income. And they're sharing their stories in this book — many of them for the very first time. Not only do each of the 19 contributors share their stories, but they also share tips, strategies and ideas that you can put into action right now to follow your own heart and transform your idea into income.
Last month at the Radiant Success Event, I was able to hang out with several of the contributors to the book. In this photo you'll see me with these wonderful people — Laura West, Shannon Cherry, Adela Rubio, Janis Pettit and Jessica Swanson (I'm the tall one in the middle). I'd met Adela and Janis before at last year's Radiant Success Event and we planned this year's event together; but it was my first time meeting the others. I'd talked with them on the phone, done business with them online, but never had the chance to meet them face-to-face.  What an incredible group of women!
I KNOW you're going to love meeting them too within the pages of "Trust Your Heart: Transform Your Ideas to Income."
When you buy the book on Amazon and come back to our site we'll give you 19 exclusive audio interviews with each of the authors who contributed to the book. Find out more at www.TrustYourHeartSeries.com